Year End
---
This ONLY applies if you're using the General Ledger. Before you run this, make sure you've finished entering all of your transactions for the year and that everything has been posted and is in balance. Then enter any year-end adjustments (like depreciation) and post them. When all of this has been done, the final step in finishing the year is to run this procedure. This will create a Journal Entry that will zero out all of your sales and expense accounts and adjust your Owners Equity account.
From the Lynx Main Menu . . .
1. Left-click on Bookkeeping and a drop down menu will appear.
2. Left-click on General Ledger.
3. Left-click on Year End.
4. Left-click on Create Year End Closing Batch which will display the Year End Closing Batch window: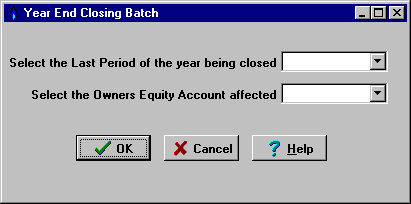 5. Key in the Period and the Owners Equity account number. If you don't do this, you will get this message:


If you left-click the button you will get this message:

If you do NOT want to continue, left-click the button and then be sure to delete the batch that was just created before exiting from this procedure.

6. If you want to continue, make sure you have the correct Period and Owners Equity account and then left-click the

button which will display this message:
7. Left-click the
button.
8. Enter the
from the drop down list. You can now look at the batch to make sure it's ok by left-licking the

tab.
9. If everything is ok, left-click the
button.
10. When you're done, left-click the close button

to return to the Lynx Main Menu.

You can still look at accounts and run financial reports for the year even after this Year End procedure has been run.